Main content starts here, tab to start navigating
Private Events
Slide 1 of 3
Slide 2 of 3
Slide 3 of 3
Host Your Event Here
Welcome to Chop'd! We can't wait to help you plan the perfect event.
Please fill out the form by clicking the "Contact Us" Button below and our Event Coordinator will be in touch to help you every step of the way.
Check out our In-House Party Packages & Dessert Options.
Our new Dessert Packages include made-from-scratch Cookie Bar Platters ($3/Person) and made-in-house Cheesecake Platters ($4/Person) as well as Ice Cream Sandwich Platters ($2/Person).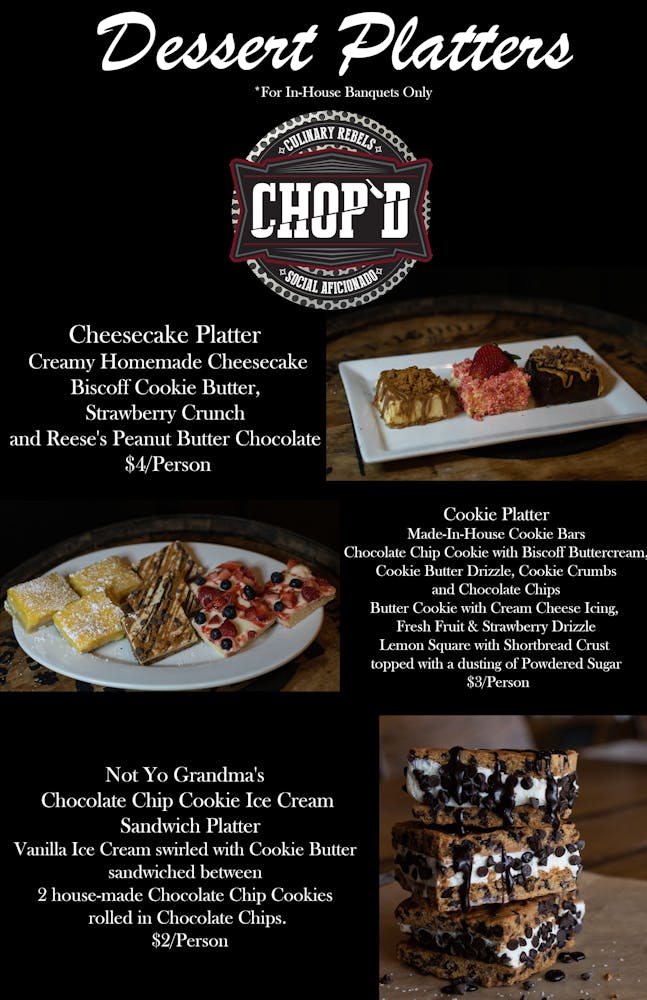 Creamy Cheesecake Platters - $4/Person
~ Biscoff Cookie Butter
~ Strawberry Crunch
~ Chocolate Peanut Butter
Cookie Bar Platters - $3/Person
~ Shortbread Crust Topped With Lemon Curd And Dusting Of Powdered Sugar
~ Chocolate Chip Cookie Crust With Biscoff Buttercream Cookie Crumbs Chocolate Chips And Cookie Butter Drizzle
~ Butter Cookie Crust With Cream Cheese Icing, Fresh Fruit Blend (Strawberries, Blueberries And Raspberries) And Strawberry Sauce Drizzle.
Made-In-House Ice Cream 1/2 Sandwich Platters - $2/Person
~ Not Yo Grandma's Chocolate Chip Cookie
Thanks for considering having your Private Event at Chop'd!